Passports & Visas

Once properly submitted, passport applications can take 12 weeks or more to be process. Be sure to plan ahead.

Please click on this link for a PowerPoint presentation of Passport instructions OR follow the instructions below.

PLEASE NOTE
If you are a first-time passport applicant you must apply in person.

If you are renewing or making a change to an old or current passport you have the option of applying in person or by mail.
Step 1

- Navigate to: travel.state.gov



Step 2

- Click the "Get a U.S. Passport" button



Step 3

- Follow the prompts on the website. Choose the passport book option.



Step 4

- Scroll down to "Apply in person" and expand this section.
Select and complete the appropriate form (DS-11 or DS-82) depending upon your circumstances.

Please read the instructions very carefully as you move through your form.
Step 5 -

Collect your supporting documents. These include:
A certified birth certificate with the raised seal and both parents' first and last names listed. An official birth certificate (NOT a copy) can be obtained at the Registrar of Deeds office in the County where you were born OR
a Naturalization/ Citizenship Certificate (original, no copies accepted) OR
a Report of Birth Abroad (original, no copies accepted) OR

IF you are renewing your passport: Your previous passport.
NOTE: Supporting documents will be returned to you in a separate mailing after your passport is issued/renewed.
Step 6

- Purchase your passport photo
Expand the "Get your photo" section

Please read the Passport Photos link very carefully. Improper photo submissions are the #1 reason passport applications are denied.

Here in Stevens Point Walgreen's offers one hour passport photo service.

Under no circumstances do "selfies" qualify as passport photos.
Step 7 - Determine your passport fees
Expand the "Calculate your fees" section and follow the link to find your fees and methods of payment

Two separate payments will be due: the first is for the (1) passport agency and the second is for the (2) U.S. Department of State

This page will also give you options of where and how you will submit your application
Step 8 -

Submit your materials in person (if applying for your first passport) or via mail (if a renewal)
In-person submissions in Stevens Point:
City-County Building (2nd Floor)
1 (715) 346-1364 option 0
By Appointment Only on Mondays or 7:30am - 4:00pm Tuesdays thru Fridays.
Expediting your passport
If you need to receive your passport within 4-6 weeks
Be prepared to pay the fee to expedite your passport as well as overnight shipping fees

Navigate to the U.S. State Department's "Get a Passport in a Hurry" web page for detailed instructions

Make certain to use express mail and to keep your postal receipt/tracking number
You will need to upload a color copy of your passport details and signature page to your study abroad application.
See example below: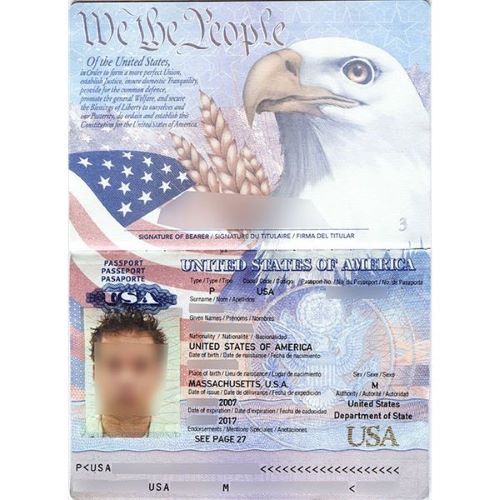 Visas
A visa is an official document allowing you to enter, study, and/or reside in a specific country. Check your host countries' consular services online to see if you need a visa before you travel!

Studying in another country sometimes requires a student visa. Although OIE cannot secure your visa(s) for you, we will help guide you through the process for your study abroad experience. Please note: Visa fees and associated shipping expenses are not part of program costs. Your out-of-pocket costs for a visa may be up to $500 or higher!

In most cases, your valid passport must be sent to the host country's consulate to have the visa physically added to your passport and you will have to appear in person at the consulate. This takes considerable lead-time and cannot be done at the last minute before departure!
Be advised that any criminal conviction may bar you from entering certain countries or obtaining a visa.
An example of a visa.