Information for Parents
Thank you for supporting your student's decision to study abroad or participate on National Student Exchange! No other educational experience offers such lifelong returns, vocationally or academically, and the time away is bound to be a pivotal moment of personal development.
The UWSP Office of International Education (OIE) is delighted that your student has accepted the challenge and opportunity of studying abroad or participating in national student exchange. We hope that you are excited about the decision as well! This page is designed to give you an overview of the planning and decision making needed to make the experience go as smoothly as possible. We hope your student will share the information we give them with you, and we urge you to read through the materials carefully.
OIE staff do our best to ensure that all major program details are in place before your student departs.
We assist each student as much as possible, but the responsibility for preparation ultimately rests with the student.
Here are some key information items and some tips:


Health Information and Insurance
Immunizations
UWSP Health Services will hold a session on campus to explain the recommendations and procedures for obtaining immunizations if any are recommended for your student's destination(s). The Center for Disease Control maintains a website of current worldwide immunization recommendations (www.cdc.gov). Non-UWSP students should consult with their campus health provider or private physician.
Prescriptions
Students who need prescription medications should take along an adequate supply with written instructions from a physician. The instructions are in case of emergency. Prescription medications should be transported in their original packaging at all times. Students should contact their medical insurance providers to determine coverage for prescriptions and payment options while abroad.
Insurance
The UW System requires students to purchase health insurance for studying abroad, and each year System negotiates a group policy that is as comprehensive and affordable as possible. This coverage is included in our program costs. The current required policy is administered by
CISI-Cultural Insurance Services International
. But please note: Overseas hospitals and clinics will normally expect payment upon receipt of services. Your student will need to keep all receipts and medical notes given to them overseas as these will be needed for completion of CISI claim forms and reimbursement. Your student will also receive information on how to set up an online account with CISI, titled "my CISI: Participant Portal."
National Student Exchange participants do not need this supplemental insurance.
UWSP does not provide travel cancellation insurance. Please feel free to purchase a policy if you prefer.
Passports and Visas
It is the student's responsibility to obtain a passport. Passport applications are available in the OIE and at the Portage County Clerks Office. We strongly recommend that students obtain passports as soon as possible to avoid delays, complications, and extra fees. Detailed guidance on the passport application process is available
here
. Passport fees and associated expenses
are not included
in program fees.
Some countries require student visas for study abroad participants. Visa applications typically take eight weeks to process and must be submitted with a passport. OIE will provide detailed guidance to your student when a visa is required. That said, your student is responsible for following these instructions and doing so within the established timelines. Failure to do so may jeopardize your student's ability to study abroad. Visa fees and associated expenses
are not typically included
in program fees.
Students who possess a valid passport should check the expiration date to make sure their passport is valid for at least six months after their program's return date. If it is not, they will need to renew their passport before departure.
Academic Enrollment & Transfer of Credits
Current semester enrollment:
All semester abroad and NSE students are required to maintain full-time academic status. Course credits will vary by program (3-18). If you need an Enrollment Verification Statement for insurance purposes, students will be able to print one from their accesSPoint account.
Enrollment following study abroad:
Course registration at UWSP takes place in November for the following spring and winterim terms and in April for the summer and fall terms. Students will need approval from their academic adviser and all holds lifted on their account before they can register online. If students wait to register upon return to campus, course selection is greatly reduced and they may incur a late enrollment fee. Students who will graduate upon return should complete graduation paperwork at UWSP prior to departure.
Transfer of credits:
After completing a study abroad program, non-UWSP students must have an official transcript sent from UWSP to their home institution in order to transfer credits. Due to privacy laws, only the student can request a transcript. The request can be made on-line at
www.uwsp.edu/regrec/Pages/default.aspx
. Students should consult with their home Admissions or Registration Office prior to departure to confirm what degree requirements the program courses will fulfill.
Payment for Study Abroad
It is the student's responsibility to keep up with payments. No billing reminders will be sent. All payments should be made through accesSPoint or in person at the Student Financial Services Office in SSC 007.
Financial Aid: Students receiving financial aid must attend to all disbursement of funds procedures before departure from the U.S. Financial aid arrangements are the student's responsibility. We advise parents to make sure all steps have been followed. Please consult the
Financial Aid Office
website for procedures.
Non-UWSP students should not assume their grants and loans will automatically transfer to UWSP. Their campus financial aid office must approve a Consortium Agreement in order for that to take place. If they are refused, students must apply for admission and financial aid at UWSP.
Financial aid for the year following study abroad: Students who want financial aid for the academic year following study abroad may be required to apply while outside the country. Academic year program participants may file via the internet after January 1.
If a student applies for financial aid with the intention of studying abroad or participating on NSE and does not, the UWSP Office of Student Financial Aid and OIE must be notified and the aid amount will be adjusted. Students who subsequently decide to attend another college or university must return any financial aid funds that they may have received through UWSP. Failure to do so is fraud and may result in federal prosecution.
Money Abroad

During the time abroad or on NSE, parents often transfer funds to students' bank accounts that are accessible through ATMs and can be monitored via the internet.

Credit Cards:
Visa and MasterCard cards are widely accepted globally. It is critical your student's credit card have an EMV chip. EMV chips are the small, square computer chips that appear on debit, credit, and prepaid cards to help safeguard them against fraud. Older, non-EMV chip cards are no longer accepted in many parts of the world.
Debit Cards:
ATM debit cards can be used for cash withdrawals in most destinations. Check with your financial institution for any fees or restrictions—AND PROVIDE THE BANK WITH THE DATES AND COUNTRIES IN WHICH THE CREDIT/DEBIT CARDS WILL BE USED. Also, by adding your name to your student's debit/checking account or opening a joint account, you can deposit money as needed. Once again, it is critical your traveler's debit card has an EMV chip.
Travel Information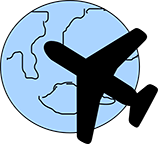 Flight Arrangements:
UW system policy mandates all study abroad participants use a UW System approved travel agency to book their international flights.
Students participating in semester abroad programs will meet with the OIE Director 2-3 months before departure to discuss and complete flight arrangements.
Students traveling on a faculty-lead program will typically be booked together and travel as a group.
Any travel outside the program dates (which we refer to as "deviations" from the program) will be at the student's own expense. Deviations are negotiated on a case-by-case basis and allowed only with the permission of the OIE Director.
Charges for air tickets & associated fees are billed through students' campus billing accounts.
Packing:
Students should use lightweight, sturdy luggage and pack lightly enough to be able to carry all of their luggage for several city blocks. In most countries there is no stigma attached to being seen repeatedly in the same outfit. Students should take a small number of versatile clothing items and a small supply of toiletries that can be replenished abroad. Students with contact lenses, however, must bring enough lenses and solution to last the duration of their stay. In most locations bedding is supplied, but it's a good idea to bring at least one towel.

Contacting home:
Students may not be able to contact home immediately upon arrival in the host country. They may need to catch a bus, be guided through arrival/orientation formalities, or move into a housing situation.
Mobile Phones:
semester abroad students are required to have an active mobile phone for the duration of their time abroad. The best approach for these travelers is to secure an "unlocked" device before departure and purchase a "local" telephone/data plan soon after arrival in their host country.
Travelers on short-term programs are not required to have an active mobile phone while away. That said, most desire connectivity akin to what they have closer to home. OIE will share recommendations on options during pre-departure activities. Ensuring one's device is "unlocked" is a critical pre-departure step.
Computers:
Many students take their laptops. We find that they rarely regret having done so—but we remind everyone NOT to leave such valuable items unattended.

Visits from Family/Friends:
We encourage family and friends to visit students while away, but each student's first priority is to attend classes. Students are not excused to spend time with guests instead of attending classes or required field trips. Guests are welcome to visit lectures with the instructor's permission, and students are free to entertain guests when not in class or on required field trips.
Emotional Matters:
All students experience some degree of culture shock when studying away. You are more likely to hear from your student during low periods and to hear more bad news than good. A brief period of disappointment, homesickness or depression is a normal part of the experience. Call OIE if you are concerned about the welfare of your student. We can contact on-site program representatives to determine if any action should be taken or to give you additional information.
Alcohol:
Eighteen is the drinking age in most foreign countries. Leaders do not tell students they cannot drink, but if the behavior of any student becomes a detriment to the group or the reputation of UWSP, students may be reprimanded and/or removed from the program.
Withdrawing from study abroad
Please review the
refund policies
for your student's program. There are non-refundable deposits and, because international travel often requires pre-departure payments, the closer we are to the date of departure the more difficult it is to secure refunds from international partners. If a student withdraws from the program after departure, there is no refund. In addition, financial aid funds may need to be repaid
Once away, participants rarely withdraw from their programs. But if your student is expressing a desire to return home, they must speak to their program leader and contact OIE. Many problems can be resolved without returning home. Although withdrawal is in rare cases the best option for the student, we ask you to consider carefully all aspects of the situation (personal, academic, and financial) before advising your student to return to the U.S. Before a withdrawal is considered official, the student must inform OIE in writing. Be aware that the withdrawal may be recorded on your student's transcript if it occurs after the program has begun.
If you have questions, please call or visit the OIE to speak with a member of our staff. We hope that you and your student truly have a great experience with study away.