Returning Students
Welcome home!
We are glad to have you back with us. Now that you're back at UW-Stevens Point, there are many ways for you to keep your international experience alive.
What is Reverse Culture Shock?
Reverse culture shock is the often unanticipated, unsettled feeling you experiences upon returning to your home culture from abroad. It is a very common experience among returning study abroad students, and it is often more intense than the culture shock you may have experienced when you first went abroad. Re-entry shock is a normal part of the re-adjustment process and can last from a few days to months.
There is a initial stage of euphoria after returning home can quickly turn to critical feelings about home. Eventually you will recover and reintegrate into your home culture. Reintegrating does not mean you lose the experience but that you learn to navigate in your home culture with the new skills and personal growth from your experiences abroad.
For many returning students the homecoming can be overshadowed by a new-found perspective on the world. Renewed contacts and familiar surroundings may now seem "strange" compared to the world you just recently left—where new and exciting things surrounded you every day. Does this describe you?
Many students go through this "return home syndrome;" please don't feel alone in your feelings. In one very real sense you have become internationalized, a new citizen of the world.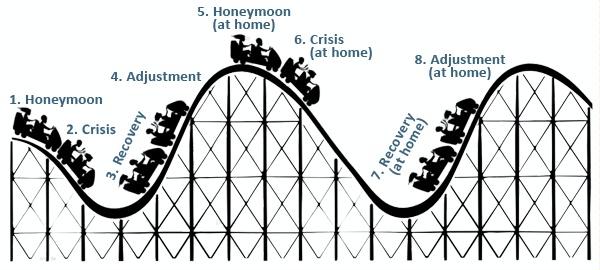 What can you do with your new perspectives and insights?
Here are a few suggestions:
Get involved! Local and international activities can help you adjust to being back, as well as help you integrate your study abroad experience into your academic life and long-term goals.
Keep in touch with your group and with our office.We know that unless you've "been there," it's hard to understand the return home syndrome. If you're a Pointer, stop by and talk to us sometime. You can volunteer to help with orienting the next group of students going abroad.

Attending presentations, such as "Marketing your Study Abroad Experience" is a helpful way to learn how to use your experience to your benefit when applying for jobs.

Join organizations with a global or international scope.

Pointers with Passports, International Club, the language clubs (French, German or Spanish Clubs), political and environmental associations with a global scope are excellent choices.

Share your adventures through talks and presentations. Whether it's on campus or with a civic or church group in your home town, please tell others. The success of our programs truly depends on students telling their stories!